JM Series Two-Stage Colloid Mill
Delivery time:2015/12/8 10:55:43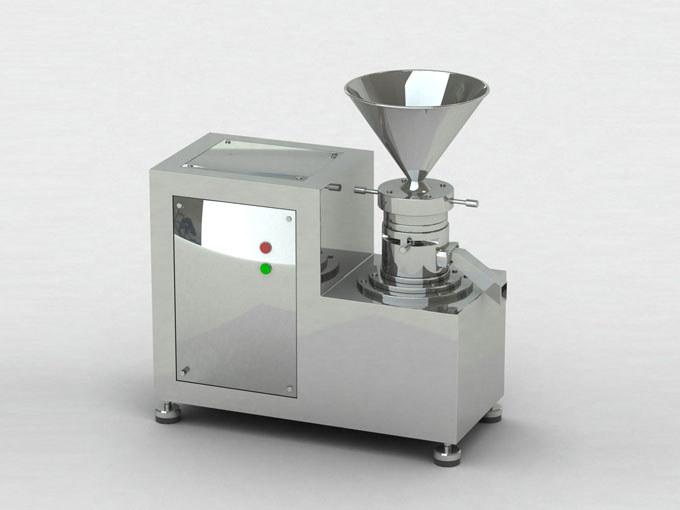 Main Application:This machine is applied for wet material super fine crushing in trades such as pharmaceutical, foodstuff, chemical and others trades, suitable for emulsifying, mixing and crushing all kinds of semi-moist or emulsions materials. Its main technique parameters have reached the international advanced standard.
Working principle:With its flexible and fixed mills with different geometric shapes rotating at high speed making the relative motion, this machine crushes materials by cutting, pulverizing, and high frequency vibrating. There are two stage of pulverizing areas the first one is for fine pulverizing, and the second one is for super-fine pulverizing, the pulverizing fineness can be adjusted by changing the rip between the upper and down mills. It can well reach the required effect of supper-fine pulverizing at once. Featured with compact conformation, steady run, low noise, corrosion resistant, easy clean, convenient maintain etc., it is the most ideal equipment for wet pulverizing in our nation .ced standard.
Foodstuff industry:aloe, flower dust wall-broken, pineapple, gingili, ice cream, jam, syrup, soy, bean, grassnut milk, soy milk, dairy produce, malted milk, essence, drinks, emulsified chicken bones, emulsified pigskin and other animal skins.
Chemical industry: oil paint, dye, coloring matter, dope, lubrication, lubrication grease, diesel oil, petrol activator, emulsified bitumen, a-dhesive, scour, plastic, detonator, glass steel, emulsified detonator etc..
Life chemistry :
toothpaste, scour, shampoo, shoeshine, cosmetic, bath extractive, soap, sweet-smelling grease etc..
Pharmaceutical industry:
syrups, nutrition fluid, Chinese patent medicine, poultice, biology produce, fish liver oil, pollen, queen bee plasma, bacterin, ointments, liquid tonic taken orally, spasmolytic, pancreas and enzyme preparation, emulsion, herd drug etc..
Construction industry:
dopes including inside and outside walls dope, antisepsis waterproof dope, porcelain dope, colorful dope, pottery and porcelain enamel etc..
Other industry:
plastic industry, weave industry, paper making industry, biology chemical, environmental protection and economization on energy, coal floatation, universities, scientific research institutes etc..
Model
JM-50
JM-100
JM-150
JM-200
JM-250
JM-300
JM-350
JM-450
emulsification fineness single loop or multi cycle
2-50¦Ìm
2-50¦Ìm
2-50¦Ìm
2-50¦Ìm
2-50¦Ìm
2-50¦Ìm
2-50¦Ìm
2-50¦Ìm
change range
1-0.01mm
1-0.01mm
1-0.01mm
1-0.01mm
1-0.01mm
1-0.01mm
1-0.01mm
1-0.01mm
Production capacity(changing with materials)
0.01-0.3t/h
0.5-2t/h
0.8-5t/h
2¡ª7t/h
4¡ª15t/h
6¡ª20t/h
8¡ª30t/h
10¡ª40t/h
Motor Power
1.5kw
5.5kw
11kw
18.5kw
37kw
55kw
75kw
110kw
Motor Rotating speed
4500r/min
4500r/min
4500r/min
4500r/min
4500r/min
4000r/min
4000r/min
3500r/min
grinding disc dia
¡é50mm
¡é100mm
¡é150mm
¡é200mm
¡é250mm
¡é300mm
¡é350mm
¡é450mm
discharge gate dia
¡é15mm
¡é32mm
¡é40mm
¡é65mm
¡é75mm
¡é85mm
¡é85mm
¡é90mm
Feed inlet dia
¡é32mm
¡é50mm
¡é80mm
¡é120mm
¡é140mm
¡é159mm
¡é159mm
¡é168mm
Water-cooling tube dia
¡é1/8¡å
¡é1/4¡å
¡é1/4¡å
¡é1/4¡å
¡é1/4¡å
¡é1/4¡å
¡é1/4¡å
¡é1/4¡å
overall dimension

750*400*

810mm

1060*500*

1080mm

1100*520*

1250mm

1200*560*

1420mm

1500*700*

1600mm

1800*900*

1800mm

2100*1100*

2000mm

2500*1400*

2300mm

weight
100kg
275kg
525kg
650kg
1300kg
1600kg
2200kg
3000kg